Take a seat! We invite you to come check out our Sitting Pretty series. Seven local artists were tasked to express their creativity in our Spring/Summer 2021 campaign colours and the results could not be more... well, pretty! Meet the artists and their creations below.
I'm stay-at-home mom who loves to draw. I moved to Calgary 5 years ago with my family and fell in love with this city. With the background of Fashion Design, I just love beautiful things. I am a happy-go-lucky person who strongly believes in one small positive thought can change your day. I might not be good with words but I would like to spread my happiness through my drawing. Love life! That's my quote of life."
Instagram: @lizallona.o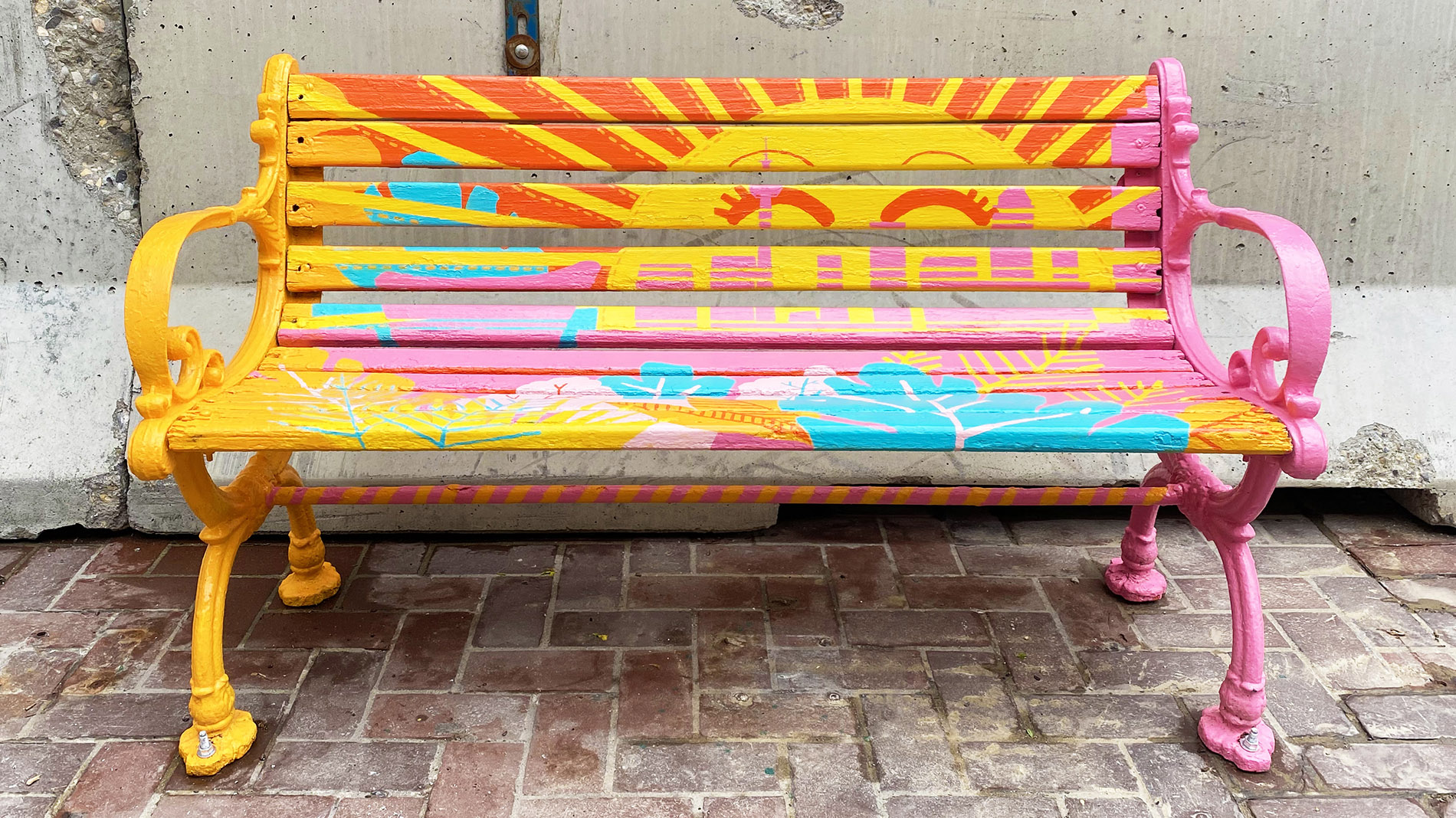 Sunshine on My Mind
Summer is all about sunshine, plants and outdoor activities. Living in Calgary for the past few years, wandering around the city is my favourite thing to do during summertime. This piece of drawing is inspired by the spectacular Calgary landscape view with the sun shining through. Plants and flowers blossom everywhere and so does hope. I purposely choose tropical plants for this drawing as I think it represents the warmth of this summer. Every summer has a story and I wish you'll have yours while seeing mine.
Location: Scotia Centre/Dollarama - 228 8th Ave SW
"Hello, I'm Lara. I primarily paint, draw and sculpt, but have gotten back into digital drawing as well. All my life I've felt the need to create and I'm finally trying to put my work out there! I'm inspired by kitschy designs, animal symbolism, and weird and creepy aesthetics."
Instagram: @larapintaricart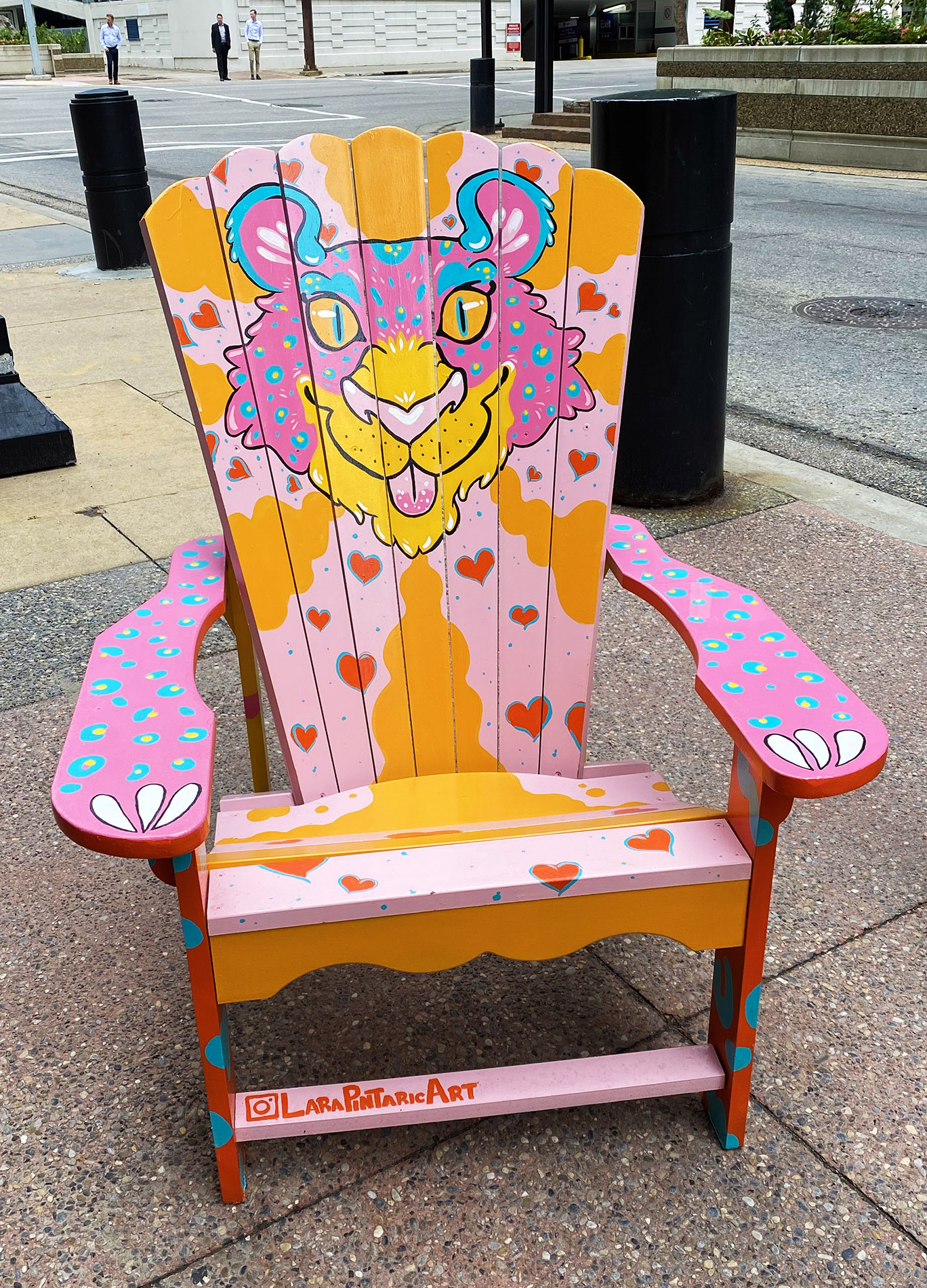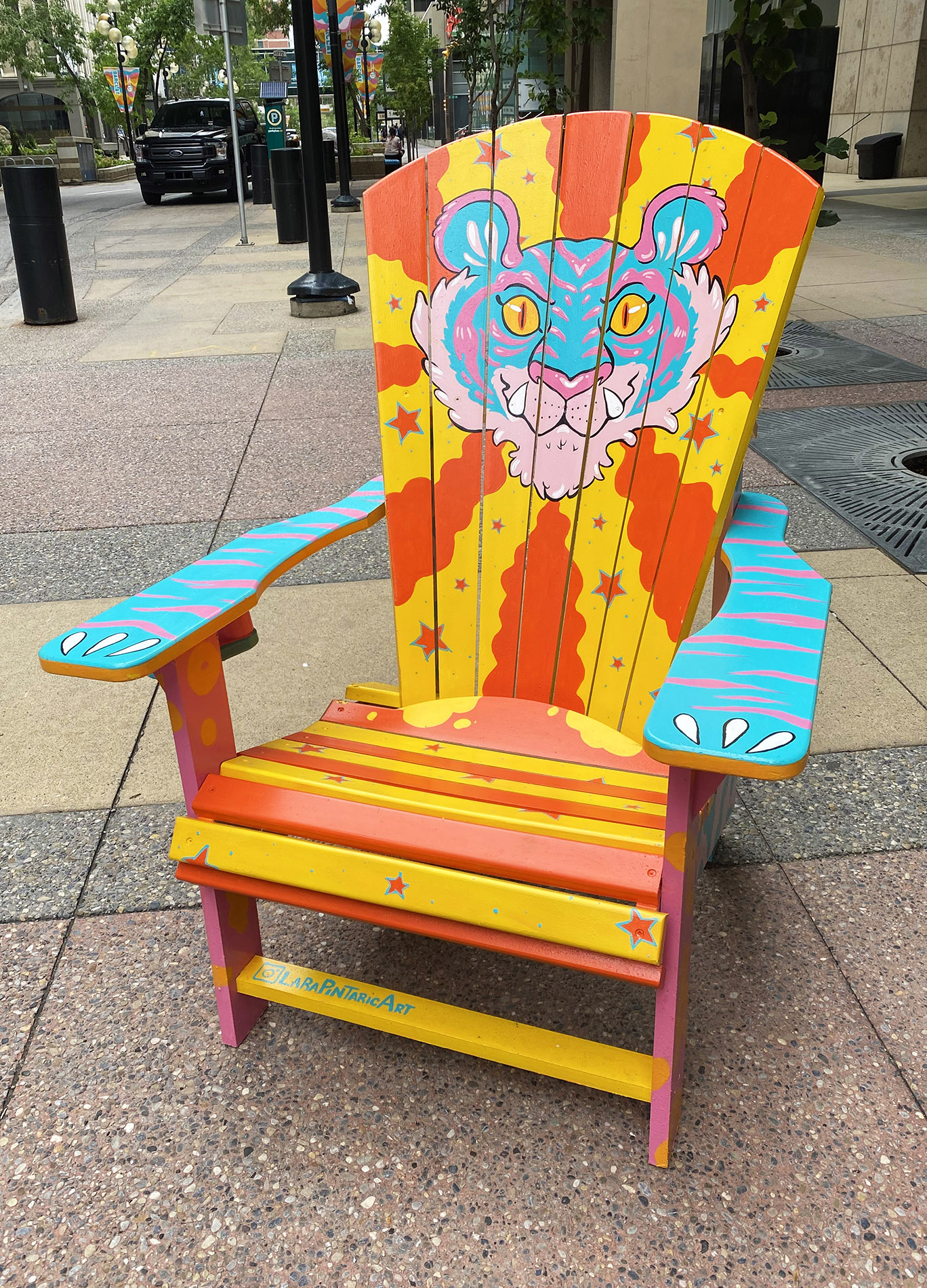 Hot Cat Summer 1 & 2
I wanted to create something that had the feeling of excitement of getting to come downtown and go to summer events and hang out with friends again. Have a seat, people watch, maybe take a selfie with these hot cats!
Location: corner of 6th Ave and 3rd St SW
Michelle Ku is an artist and animator based in Calgary, with family roots in Hong Kong. Her paintings and comics are colourful and bright, sweet and salty. She often balances darker topics with cute characters and vibrant colour schemes. As a freelance 2D animator, she's worked for companies such as Cartoon Network, Blink Ink, and Atomic Cartoons on everything from music videos to TV and commercial projects. Her art is essentially like a big hug, that brings out your inner child!
Instagram: @michellekuku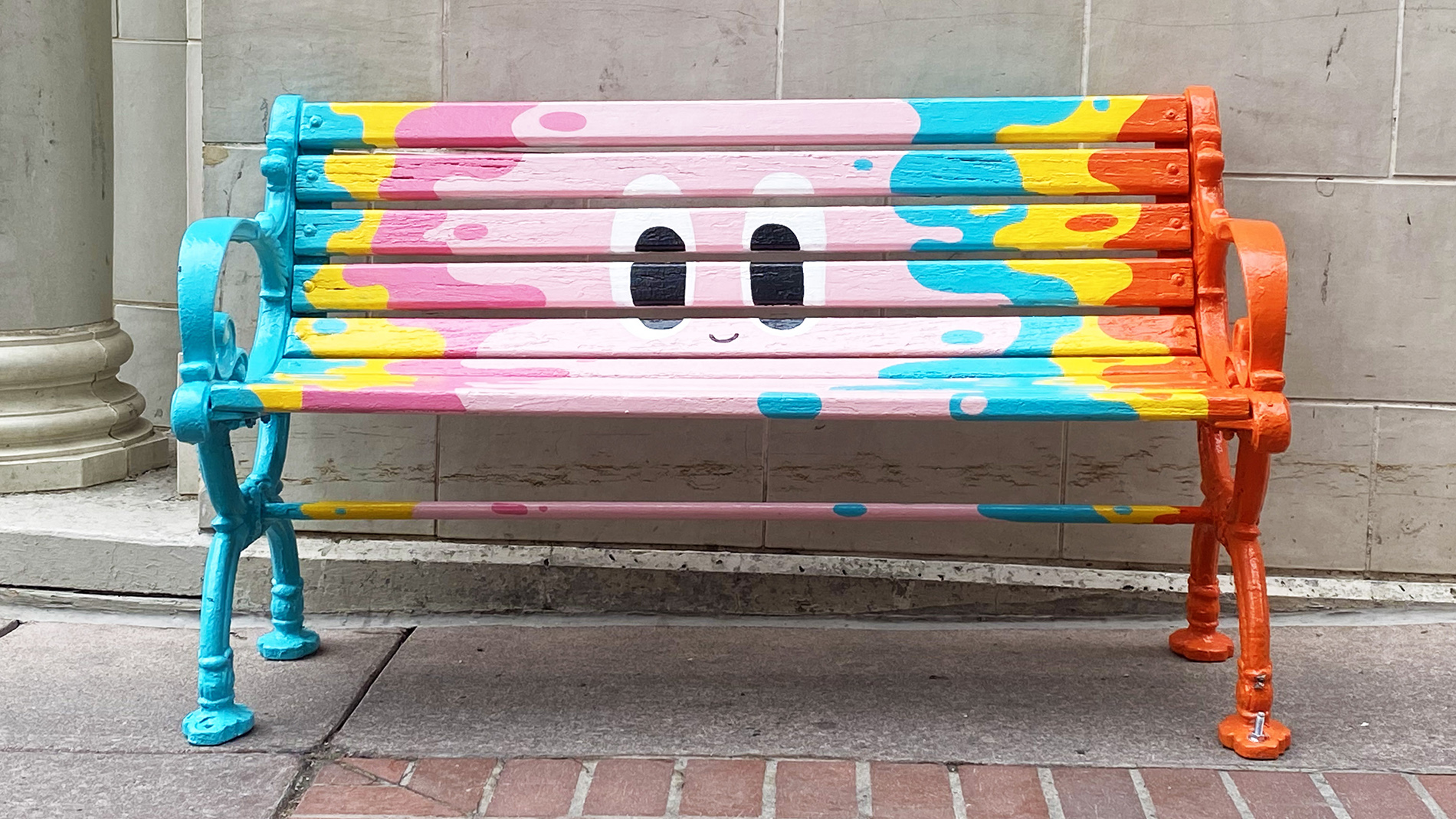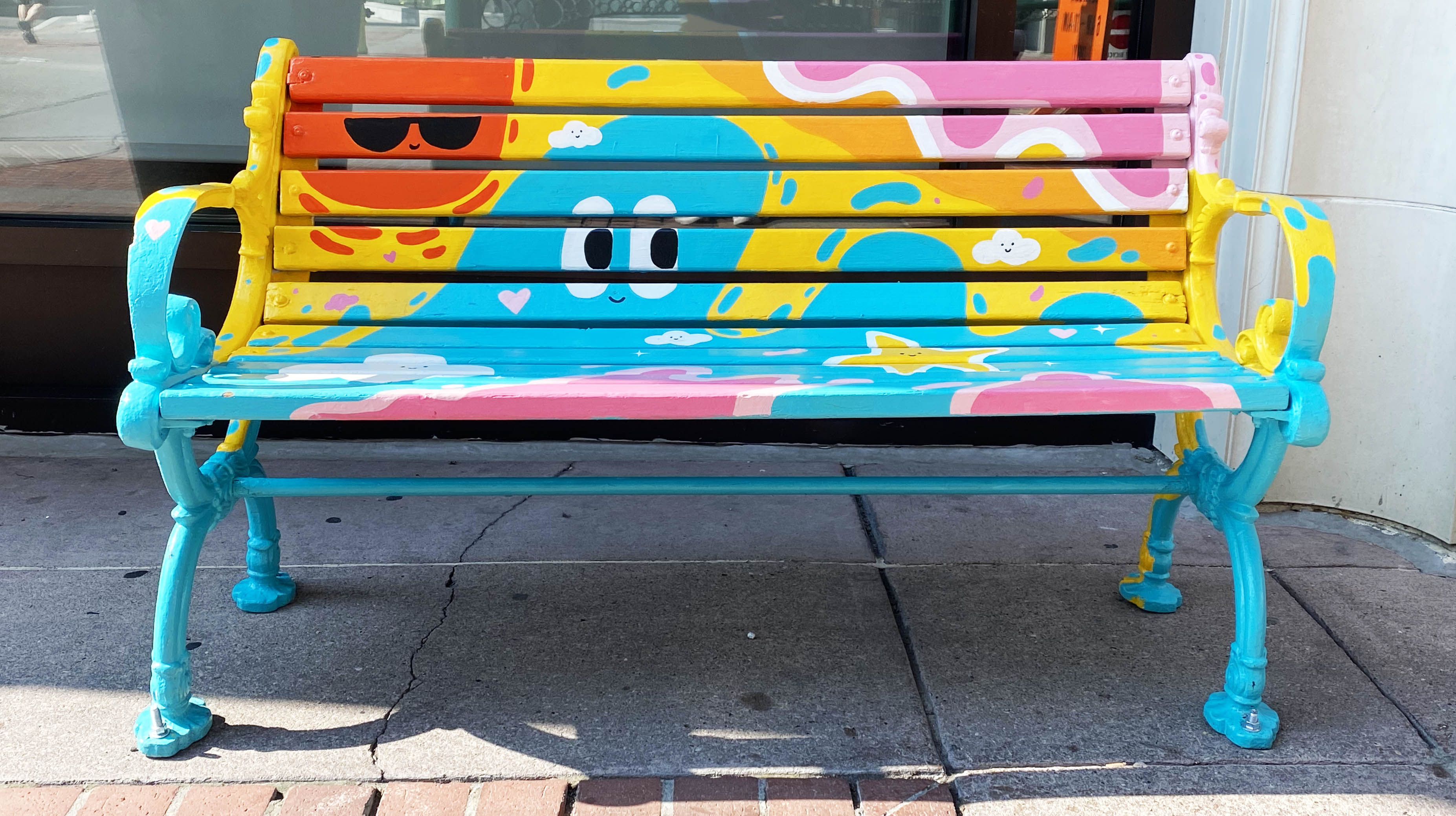 Summer Splash & Heatwave
They are both inspired by the fresh and exciting summer feelings that have come after a long year of isolation and restrictions. My hope is that these designs will bring a smile to people's faces when they see them, and give a little boost of serotonin!
Location: outside of CIBC Stephen Ave - 308 8th Ave SW
Mike Hooves is a prairie artist working in illustration, animation, and film in Calgary, Alberta. Mike uses shape language, saturated colour, and gestural linework to create playful and engaging imagery that acknowledges queer aesthetic and signifiers.
Instagram: @mikehooves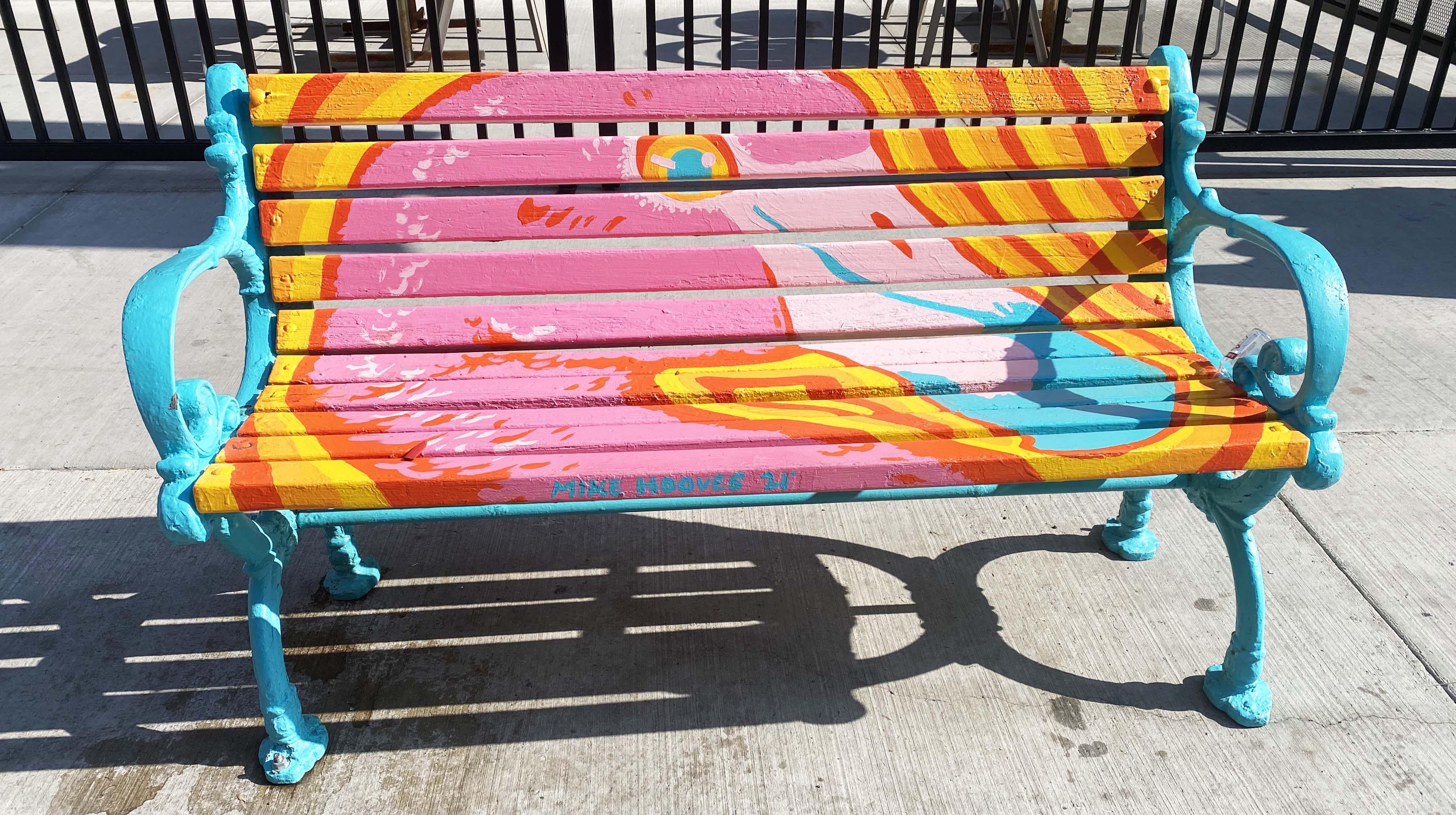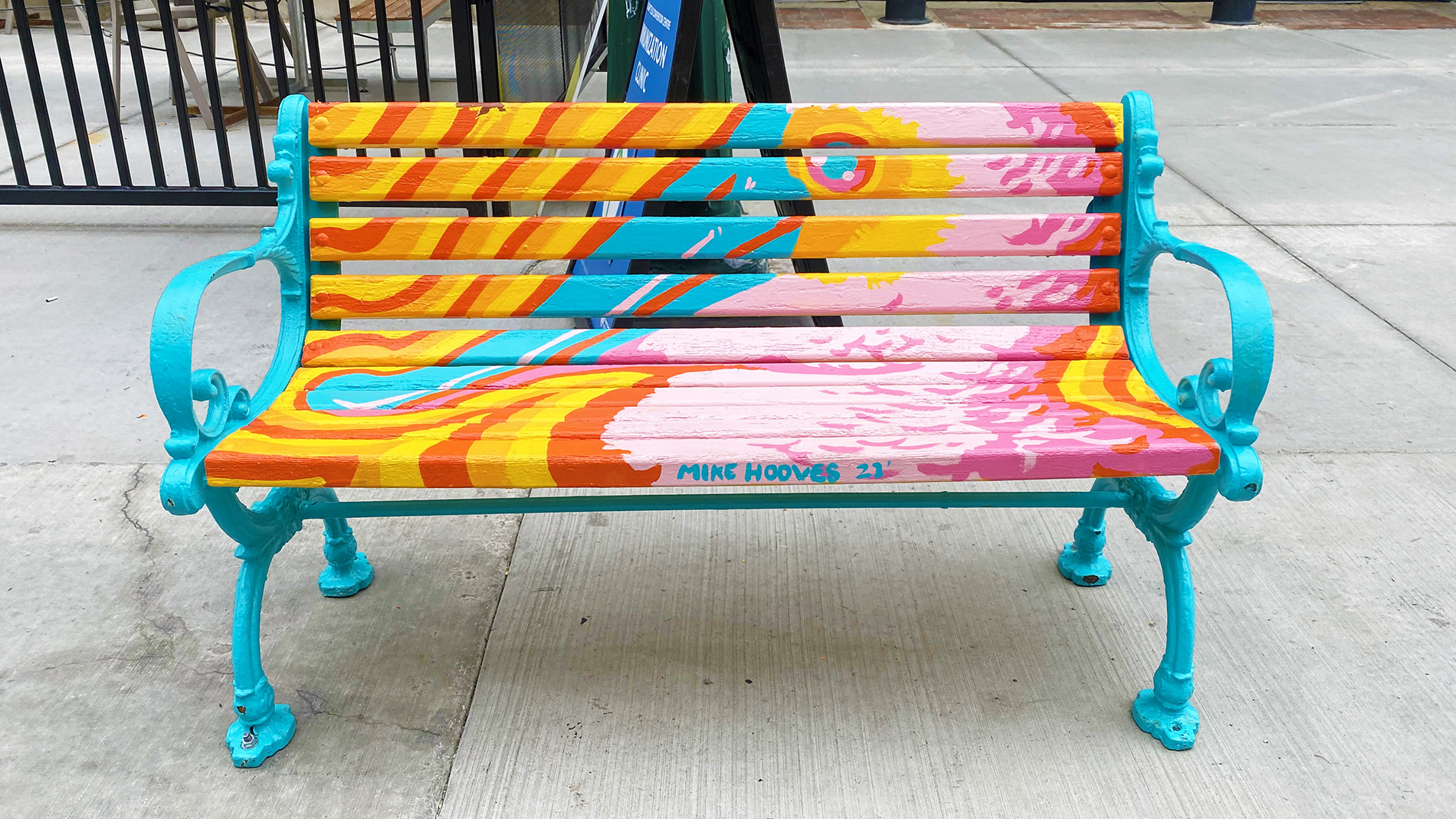 Pink Flamingo & Rose Spoonbill
The presented palette and summer theme reminded me of flamingos because of their association to summer through the use of yard flamingos. I was inspired by the décor on my lawn. I chose a roseate spoonbill as my second subject due to its relatively unknown nature and its proximity to the flamingo. The palette also inspired a retro, psychedelic look.
Location: outside of ATB & Phil&Sebastian - 102 8th Ave SW
When I was six I decided I was going to be an artist. Four years later I took an art class by Michelle Austen, and never looked back. Over the years I've experimented in many media's and with each piece I strive to improve and develop my style. I love to look for the story behind art, the emotions and memories are what brings the piece to life. When I painted my first mural I fell in love all over again. Street art is exciting and full of life, the possibilities are endless and it's the adventure of a lifetime.
Instagram: @katelynkempartist
Cobra Chickens & Simply Love
Cobra Chickens - To be Canadian is to fear these birds, but the simple lines in this design portray the geese in a friendly playful light.

Simply Love - Simply put, love is all about lending a helping hand and celebrating our differences. A seemingly simple thing that means so many things, and can be found anywhere.
Location: between Milestones and Glenbow - 107 8th Ave SW
"My name is Lissette Febrero. I was born in Chile, and I have been living in Calgary for 7 years. I am a Graphic Designer and Illustrator. I also include lettering within my art since words are the culmination of an emotion or an idea that I want to transmit. I have been selected to be in two exhibitions this year, namely, Chinook Blast Festival (Glenbow Museum and Project Projekt) and SpanicArts Calgary. As an artist this gives me an incentive to keep creating, and I am beyond excited to have this opportunity to share my art."
Instagram: @lissfebrero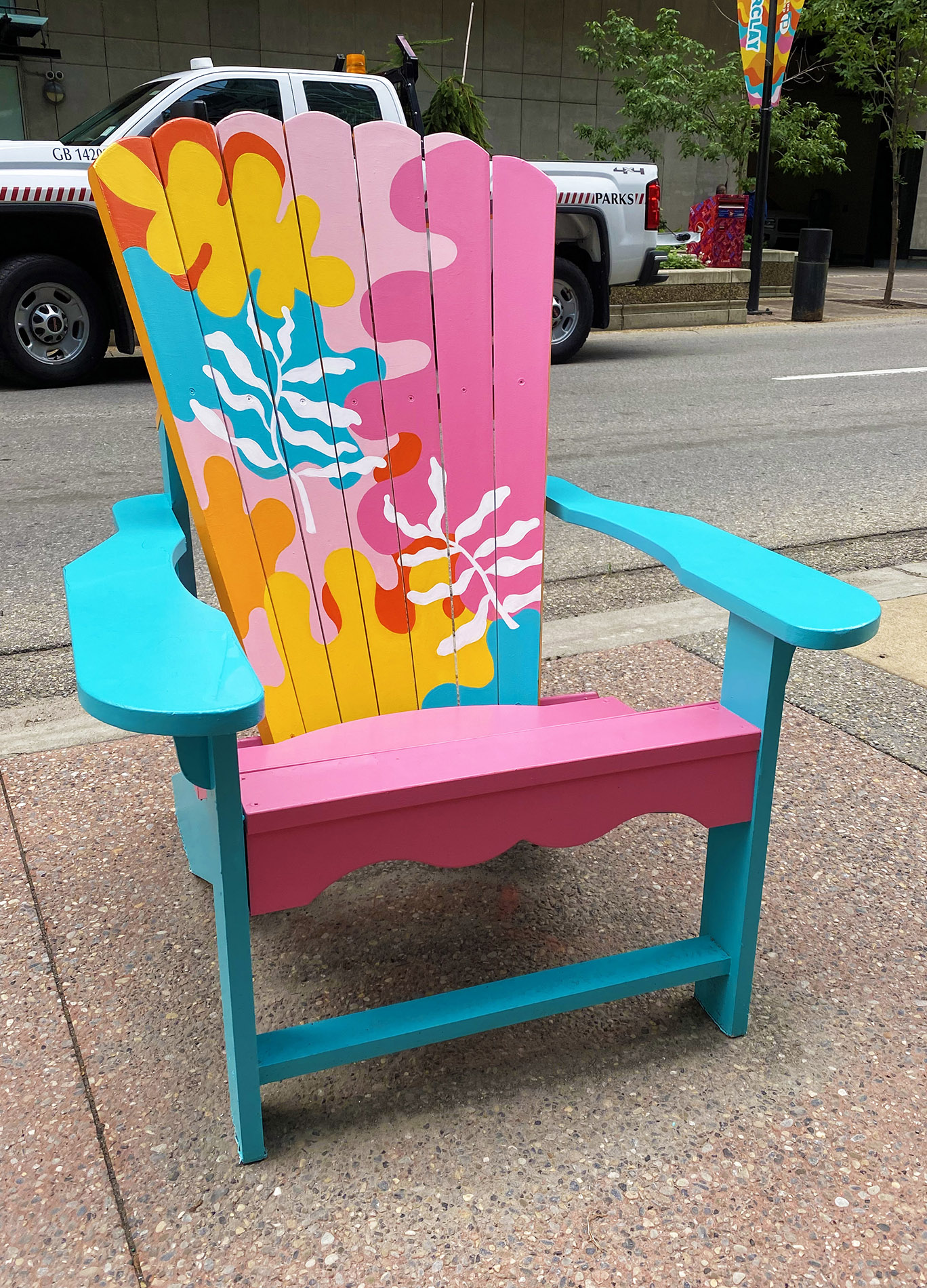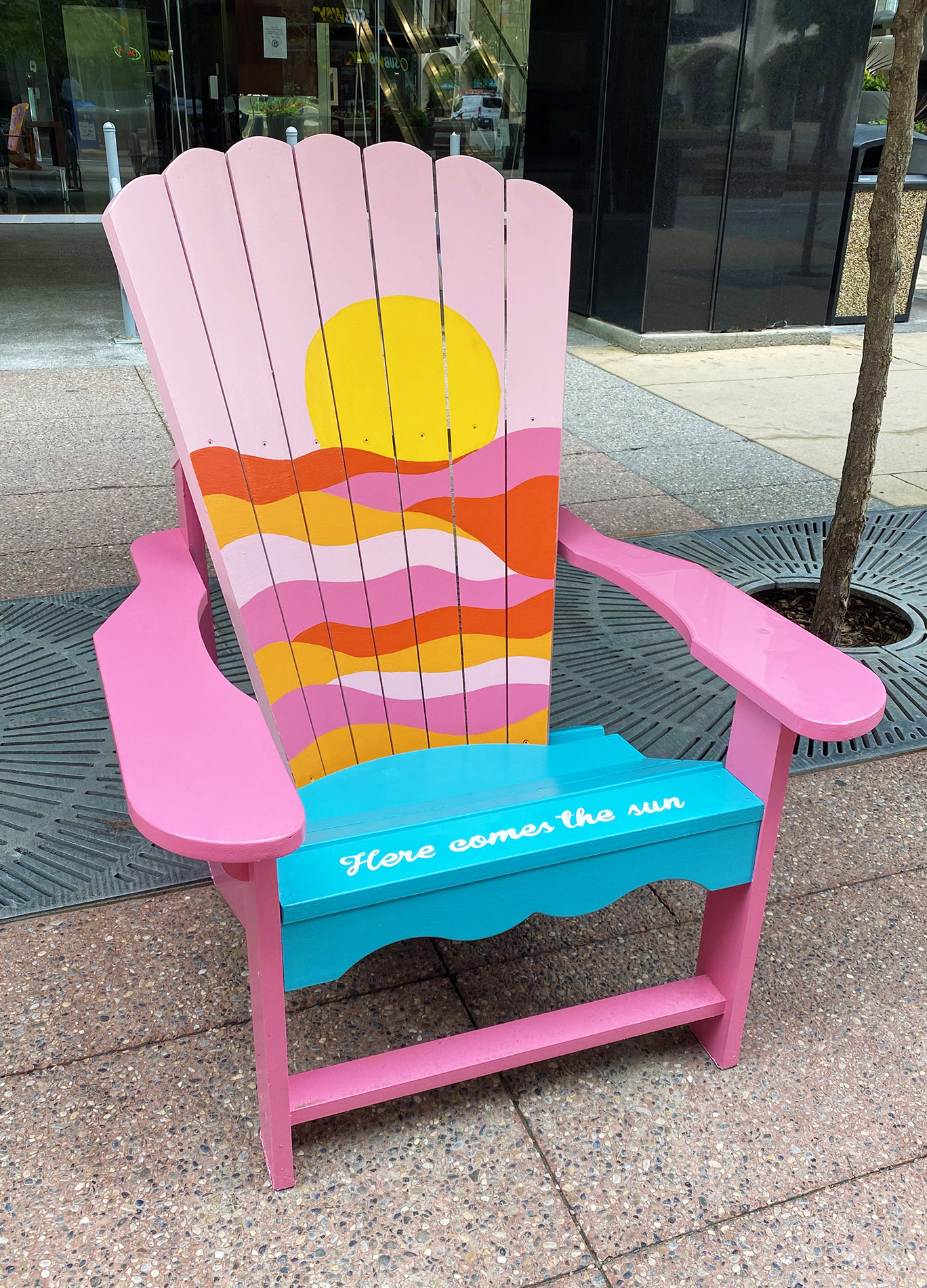 Here Comes the Sun
This artwork was inspired by summer and nature to bring a much needed injection of positive vibes. This fresh colour palette is perfect to give a warmer look to the Calgary surroundings.
Location: Corner of 6th Ave and 3rd St SW
Tiffany Lynn Cuffley is a former professional figure skater, Performing Arts graduate and self-taught Visual Artist in Calgary, Alberta. All of the above shape her current body of work. Her work is an exploration of pattern and the geometry of movement. Tiffany continues to push the boundaries of her work and study the connection of shape, structure and unpredictable movement.

Her work has been a part of group shows, solo exhibitions as well as restaurant and retail installations through out the city including Sammie Cafe, Renegade, Una Pizza + Wine, Rndsq, Vertigo Theatre Gallery, XO Treatment Room, PARKshow, Canada 150 at the CORE and was the Calgary Stampede dream home artist in 2018.
Instagram: @tiffanylynncuffley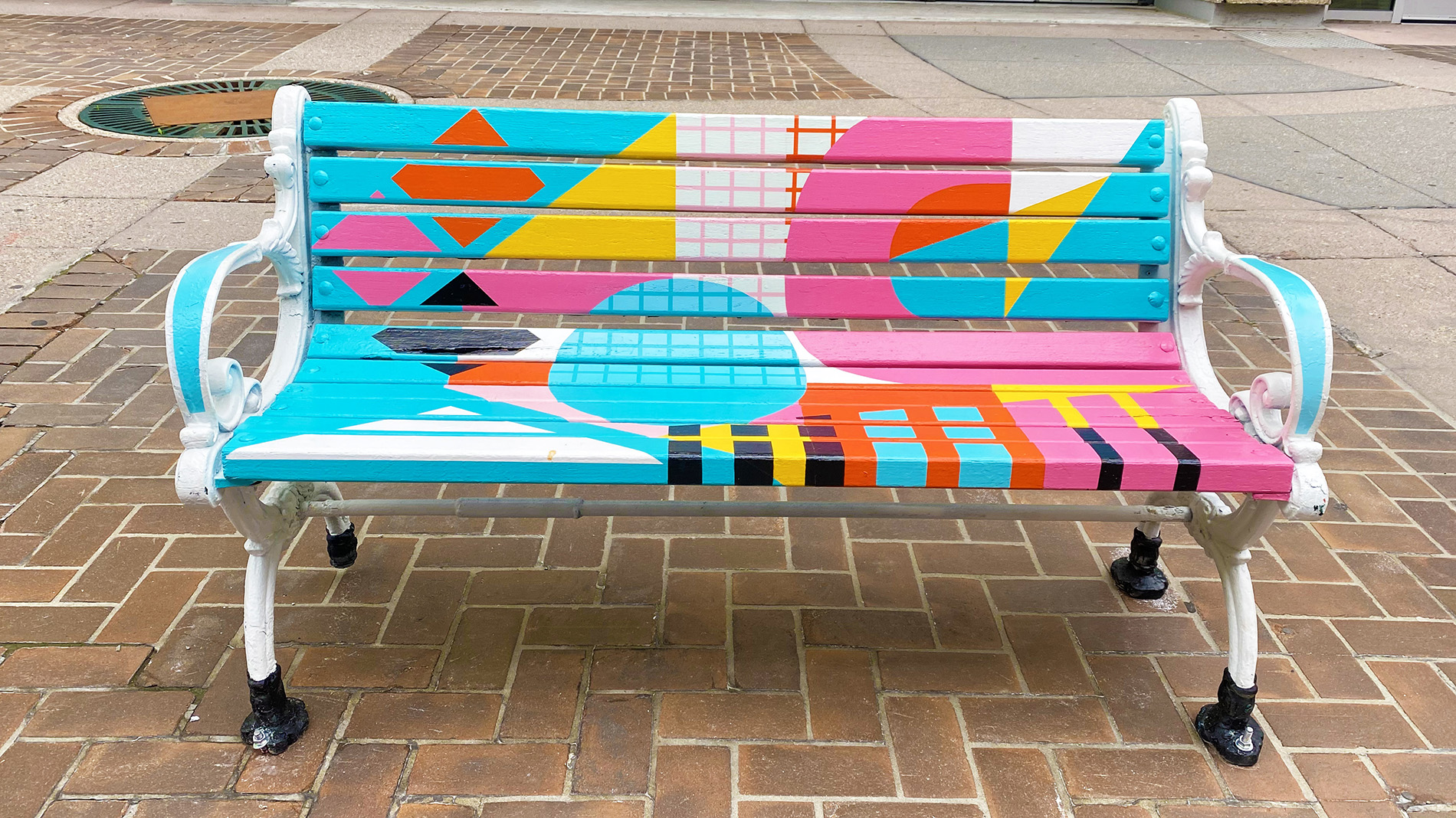 Goldie & Sunset Chaser
The concept for the benches was inspired by 80's architecture and interior design. Curved shape and sharp lines all playing against each other for a spot on the bench.
Location: outside of Global Business Centre at the Convention Centre - 120 8th Ave SW